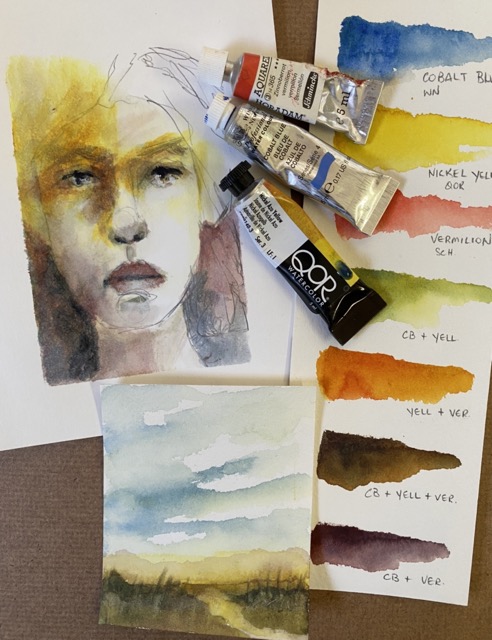 The temperature reached 40.8 degrees celsius today with very little breeze, and rather than just sit and swelter I said to myself "colour your day" instead!  My only art option that didn't dry on the spot was watercolour!
Where to start?
I pulled out my cluttered box of watercolours gathered over time, only to find some had totally dried up!  Some were sticky from the heat, some were just empty tubes after being devoured by a recent mouse plague (they love blue and yellow!) and others were still intact thank goodness.
Looking at them I became overwhelmed with the choices of colours and had no idea where to start or which ones to choose.
Recently I came across this quote from Albert Einstein "Out of clutter, find simplicity", and decided it was time to simplify!
I thought it would be fun to just choose 3 colours (a triad) and see how they interact with each other and what other colours I could create with such a simple palette.
Choosing my 'colour your day' with a triad
I decided that the primary colours were the best place to start.   So Cobalt Blue, Nickel Yellow and Vermilion became my first triad
Join the challenge
To explore a variety of different triad combinations, I decided to do a mini 5-day challenge.
You are welcome to join me for the challenge via email so feel free to sign up to my newsletter .  I'd love to see what combinations you use.  For Day 1, choose any blue, yellow and red  you have on hand.
Painting not your thing?
If you're not a painter, why not  choose 3 colours of fabric, ingredients from the pantry and create a dish, or a group of cushions for the lounge.
As we take our first steps into another year, let's add a little colour into our days after the dreary year that we've just had.